EVENTS

Café Scientifique
TBI Director Brent Peyton will be presenting, The Unknown Yellowstone: Microbial Discoveries and Biotech Applications, Thursday, February 20, 6pm, at the Baxter Ballroom, 105 W. Main St., Bozeman. The event is free and open to all. Sponsored by MT INBRE and the Montana COBRE programs at MSU.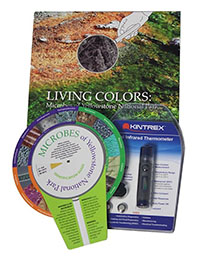 NOW AVAILABLE!
Living Colors: Microbes of Yellowstone Park
A LETTER FROM BRENT PEYTON
Dear TBI Research Community,
As a relatively longtime TBI researcher and someone that has benefited immensely from TBI affiliation, I'm looking forward to this new role as an opportunity to give back to the MSU community.
I've been very fortunate to work closely with John Peters over the last five years as TBI Associate Director. During that time, we've gained traction with several important initiatives, including hosting the International Thermophiles Conference held in Big Sky and a recent infrastructure grant from NSF that supported a 2.5 million dollar renovation of TBI's facilities on the 6th floor of Leon Johnson Hall. My new role will allow me to accelerate that momentum into new projects in research and education. In a climate of ever more interdisciplinary research, advances in molecular biology and systems biology, I will work to seek new funding to help us better understand extreme bio/geo/chemical processes that affect the natural environment, facilitate sustainability, and challenge us to respond in new ways.
This is an exciting time for both fundamental and applied researchers, and I am a firm believer in setting goals and sharing those goals to help us get there. In 2013, I hope to strengthen the TBI community in three ways:
Relationships
I hope to represent all TBI researchers in building and strengthening collaborative relationships within MSU, and increasing visibility with outside collaborators and institutions to help increase overall impact of TBI research and education.
Technology
Leverage MSU's talent and state of the art research facilities to put TBI researchers at the forefront of thermal biology, and further utilize our website (http://tbi.montana.edu/) and video conferencing systems to help expand national and international collaborations and our overall sphere of influence in the area of thermal biology.
Outreach
I would like to continue to build and support the "pay it forward" culture of outreach and education at all levels that has defined TBI as a successful, long term Center of Excellence.
TBI cannot come close to achieving these ambitious goals without you. Please consider my email (bpeyton@coe.montana.edu) an open line of communication to let me know what I'm doing right and what I could be doing better to make TBI the place to do research on thermal systems. Most importantly, feel free to let me know how I can help achieve success for individual researchers and the institute as a whole. I look forward to meeting with each and every TBI faculty member and student to catch up on your current research and discuss future goals.
Finally, I welcome the challenges and opportunities ahead and encourage your participation in TBI seminars and activities now and in the future.
Sincerely,
Brent Peyton
Thermal Biology Institute
ABOUT TBI
Established in 1999, the Thermal Biology Institute is a multidisciplinary team of scientists
forging a new path in scientific discovery focused on the unique thermal environments within Yellowstone National Park.
We are committed to furthering scientific understandings of the extreme limits of life on our planet, and working to ensure a sustainable future for research and outreach focused on the geothermal features of Yellowstone National Park.
MORE »