TBI and Teachers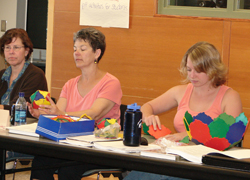 The Thermal Biology Institute hosted its 5th (WOW!) Master's in Science in Science Education field class for practicing teachers June 18-22.
Our class, Thermal Biology in Yellowstone National Park, combined the skills and teaching talents of 15 TBI faculty and staff this year. Collectively we have educated over 125 teachers from 17 states as a result your efforts. We look forward to another exciting year!
2007 MSSE teachers; Students build their own viruses and learn about material science applications for Yellowstone virus cages.