FUN ERUPTS AT THE CHILDREN'S MUSEUM OF BOZEMAN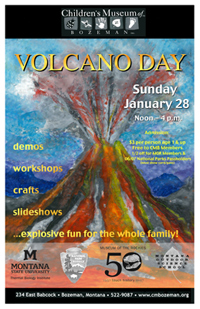 On Saturday, January 28, 2007, from 12:00 to 4:00 pm, the Children's Museum of Bozeman will burst with the sights and sounds of volcanic activity at our first ever Volcano Day. All ages are welcome for an afternoon of volcano-related workshops, activities, crafts, demonstrations and explosive fun! Volcano Day is being brought to you by the Children's Museum of Bozeman, Montana Outdoor Science School, Montana State University Thermal Biology Institute, Museum of the Rockies, and the Formal Education Branch of Yellowstone National Park.
Join MOSS for a Rock Scavenger Hunt and other rock-your-world geology activities.
Try your hand at Earthquake Engineering with folks from the Museum of the Rockies. Learn how to Batik a Microbe with the Thermal Biology Institute. Strut your volcano-fashion stuff with your own Volcano Hat or try your hand at Molten Crayon Volcano Art.
Volcanologist Julia Sable will present lively demonstrations on pressure, viscosity and eruptions throughout the afternoon. Visitors can watch a slide show of volcanoes in the U.S. and elsewhere and explore the role volcanism has played in the creation of hydrothermal features in the nation's first national park.
"Volcano Day is bringing together an extraordinary group of artists, educators and scientists," says Sharon Glick, CMB Program Director, "and it has really taken on a life of its own. Once we started planning activities, everyone wanted to be a part of it. We're excited to explore new subject matter and reach older kids at the same time."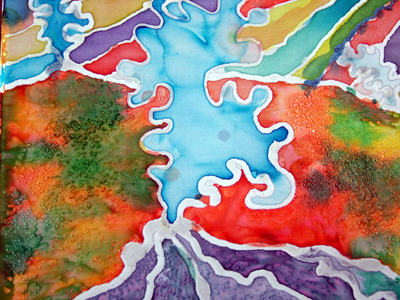 All events will take place at the Children's Museum of Bozeman, 234 E. Babcock Street, in downtown Bozeman. All activities are free with admission. Admission is $3 per person ages 1 and up and is free to CMB Members. Museum of the Rockies Members and National Parks passholders get in for half price.
The Children's Museum of Bozeman (CMB) enriches the lives of children and families by providing fun, interactive learning experiences that enhance their knowledge of themselves and their world. For more information call 406/522-9087 or go to our web-site at www.cmbozeman.org.