FUN ERUPTS AT THE CHILDREN'S MUSEUM OF BOZEMAN
Join us for Volcano Days -- a community event!!
This Sunday from 12-5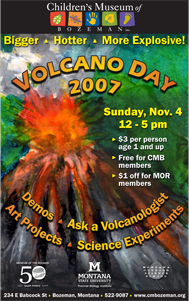 Join us this Sunday November 4th for the second annual Volcano Days; 12:00 to 5:00 pm at the Bozeman Children's Museum. All ages are welcome for some explosive fun, with volcano-related experiments, art projects, and demonstrations.
Volcano Days is brought to you by the Children's Museum of Bozeman, MSU's Thermal Biology Institute, the Museum of the Rockies, and the Montana Outdoor Science School .
All events will take place at the Children's Museum of Bozeman, 234 E. Babcock Street in downtown Bozeman . All activities are free with admission.
Questions? For more information call 522.9087 or check out the Children's museum website at www.cmbozeman.org.
This is a great afternoon for family fun! We hope to see you there!