Public Outreach and Education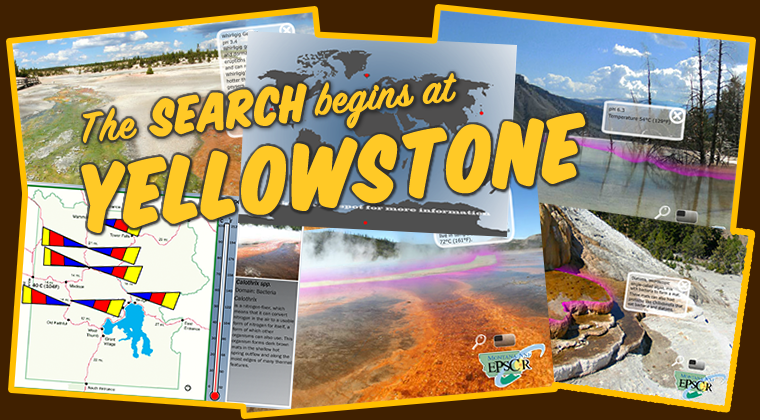 TBI utilizes the highly visual and engaging qualities of the unique thermal features within Yellowstone National Park as a vehicle to promote a more scientifically literate public in biology, chemistry, and earth sciences. Our vibrant outreach program is crafted to reach audiences spanning elementary school students to adults, and most extensively, 6th-8th grade teachers and students.
TBI thrives on sharing the excitement of Yellowstone Science; we have developed a variety of educational programs and partnership projects to serve any interested audience.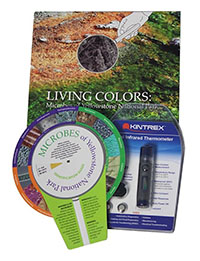 NOW AVAILABLE!
Living Colors: Microbes of Yellowstone Park
Scientists now theorize that on Earth, every ecosystem, no matter how extreme, holds diverse populations of microbes — most of which are previously undiscovered. Take a tour of some of the world's most harsh environments.
Map of Yellowstone Extremophiles
Watch as the presenter simulates sampling Yellowstone's extremophiles. The presenter will select different portions of the triangles. The different colored portion will give you information on the temperature, pH, or name of the extremophile. The blue section shows the name and image of the extremophile; and the red and yellow sections show the temperature and pH of its environment.
World Map of Extreme Environments
Microbes that live in extreme environments, called extremophiles, are found all over the world. Some of these extremophiles might offer insights into clean and efficient hydrogen production. Below is a video that will walk you through different hotspots for extremophiles around the world.
Panoramas of Yellowstone Extremophiles
Watch the videos of 360-degree panoramic images of thermal features in Yellowstone.
Grand Prismatic


Norris Basin

Norris Basin is one of the most volatile areas in Yellowstone. It is located at the convergence of 3 sets of faults and therefore has lots of earthquakes. Norris is also the hottest thermal region in Yellowstone and is home to the world's tallest active geyser —Steamboat Geyser.
Mammoth Hot Springs Terraces

The Mammoth Hot Spring Terraces have been a popular feature in Yellowstone since the early stagecoach routes up the Yellowstone River Valley. The Terraces, first described by the 1871 Hayden Survey, were given the name of White Mountain Hot Spring, even though they were well known and named before then.