Extreme Microbiology in Yellowstone
The Thermal Biology Institute (TBI) and Honors College at Montana State University recently launched a new undergraduate course which allows students to experience hands-on field study in Yellowstone National Park. "Extreme Microbiology in Yellowstone," introduces students to the unique bacteria, archaea, and eukarya inhabiting Yellowstone's geothermal hot springs, and teaches students the important ecological connection between microbial activity and key physical, geological, and chemical processes occurring hot spring environments.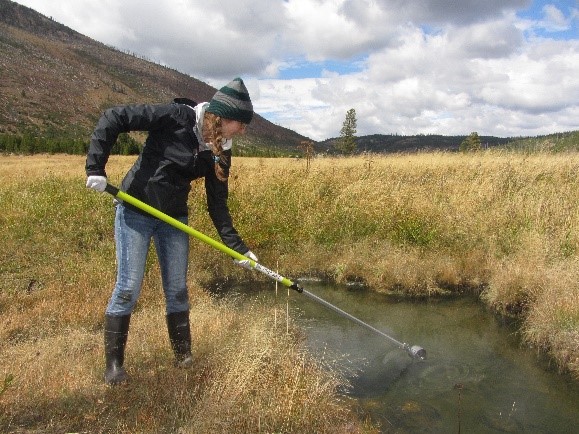 Kori Klingelsmith, undergraduate student in microbiology & immunology, uses a sampling pole to collect microbial mat from a hot spring in the remote Heart Lake Geyser Basin region of Yellowstone National Park. Photo taken by Dana Skorupa.
The course is funded by a prestigious $1 million grant from the W.M. Keck Foundation. The goal of the grant is for MSU researchers to expand the knowledge of how microorganisms thrive in hostile high-pH hot springs. Advancing our fundamental understanding of novel high-pH and high-temperature adapted microorganisms may lead to new discoveries in medicine, energy, materials, and other fields. In an effort to promote undergraduate student involvement, the grant also incorporates a lab-based class for twelve students. During this fall semester course, students learn how extreme microorganisms contribute to the cycling of nutrients in geothermal systems, and the engineering and use of extreme microorganisms in a variety of biotechnology applications. Students visit these unique ecosystems on a field sampling trip, and through sample collection, laboratory work, and analysis develop culturing strategies needed to grow unique extremophilic organisms in high pH ecosystems. Finally, students analyze the enrichment samples they work with throughout the semester via molecular techniques to determine what organisms grew and the abundance of different populations. The course is taught by Brent Peyton, professor, and Dana Skorupa, assistant research professor, both in MSU's Department of Chemical and Biological Engineering.
"This type of laboratory experience is rare in an undergraduate course," Skorupa explained. "Typically, students work with a small selection of traditional organisms and learn basic microbiology techniques in a controlled lab setting. In our course, students travel into the field, collect their own samples, and take them back to the lab for analysis. They are responsible for targeting a previously un-cultured microbe, and determining what enrichment strategies they want to test," Skorupa stated. An added benefit to the course is that upon completion students can continue their research in a TBI-affiliated lab.
For more information about the course HONR291 go to: http://www.montana.edu/honors/courses.html#fallcore