Living Colors
Microbes of Yellowstone Park
Living Colors: Microbes of Yellowstone National Park is now available to purchase from the Yellowstone Association Park Store
Note: Living Colors: Microbes of Yellowstone National Park and the accompanying identification wheel were created by the Montana State University Thermal Biology Institute and the Montana Institute on Ecosystems.
Microbial Animations
Click on the links below to view animations of the microbes of Yellowstone. You can also view all of the movies together in one playlist.
Mammoth Hot Springs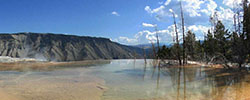 This artist's animation features Chloroflexus, a fimlamentous anoxygenic phototroph, formerly referred to as a green nonsulfur bacterium, that is rod shaped and forms filaments. It uses light for energy but uses organic carbon derived from other organisms to make new cell material and does not produce oxygen as a byproduct of photosynthesis.
This artist's animation features Oscillatoria, a rod-shaped bacterium named for its slow back-and-forth oscillating movement that allows it to move closer to a light source. Oscillatoria has been found all over the world on every continent except Antarctica.
This bacterium is usually deep purple red in color but can be reddish brown as well. It has been found in a few small springs in the Mammoth area of Yellowstone, and is quite abundant in some of the hydrogen sulfide-containing springs at Thermopolis, Wyoming.