HONORS 291: Extreme Microbiology in Yellowstone
FALL 2019
In the 2018–19 academic year, the TBI W.M. Keck teams again offered a research-based undergraduate course titled "Extreme Microbiology in Yellowstone," which introduces students to microorganisms inhabiting Yellowstone's geothermal hot springs. By participating in a backcountry field-sampling trip in Yellowstone and conducting laboratory work and analysis, students attempt to culture unique thermophilic microorganisms that thrive in high-pH and temperature ecosystems. A second cohort of 12 undergraduate students were placed in teams, with each research team targeting YNP thermoalkaliphilic organisms capable of degrading materials with industrial relevance (i.e. plastic, rubber, polycarbonate, and nylon).
Two research teams successfully enriched for their targeted biodegrading populations. In one instance, a student team successfully cultured thermophiles which show signs of being capable of degrading polyethylene terephthalate (PET), a plastic waste material commonly used in packaging and beverage bottling. A second student research team cultivated active populations which were cultured using nylon 6,6 as the sole carbon and energy source. Nylon is an industrially relevant material, with widespread use in in the textiles and clothing industry. Several undergraduate alumni of the HONR 291 course also received accolades in 2018.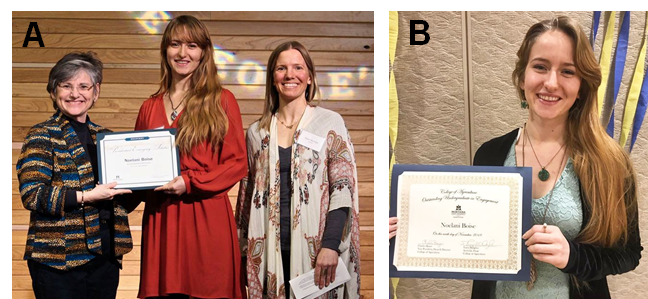 Former HONR 291 student receives several distinguished awards. (A) Noelani Boise (center), an undergraduate student dual majoring in Environmental Sciences and German Studies, accepting her Emerging Scholars Award with MSU President Dr. Waded Cruzado (left), and HONR 291 instructor Dr. Dana Skorupa (right). (B) Boise was also recognized by the College of Agriculture for her active contribution to philanthropic, research, and community endeavors, and received the 2018 "Outstanding Undergraduate in Engagement" award.
Noelani Boise, a senior-level student working in a TBI W.M. Keck-affiliated lab received an Emerging Scholars Grant from MSU President Waded Cruzado. This allowed her (along with Keck team member Dr. Dana Skorupa) to present a scientific poster on her W.M. Keck funded research entitled "Functional screening of a metagenomic library for the detection and isolation of novel thermostable enzymes from an alkaline hot spring in Yellowstone National Park" at the 2018 International Society for Microbial Ecology (ISME) Conference in Leipzig, Germany.
Boise was also awarded an undergraduate research scholarship in the Fall of 2018, which she used to conduct laboratory work aimed at culturing plastic-degrading thermophiles, as well as to analyze current U.S. plastic recycling and waste regulations and estimate how microbial biodegradation might alter future management practices. Boise graduated in the Fall of 2018 from MSU's Honors College, earning a bachelor's degree in Environmental Sciences and German Studies. She also earned top honors in the College of Agriculture, earning the "Outstanding Undergraduate in Engagement" award. Boise will continue her research endeavors by working as a post-baccalaureate researcher with U.S. Department of Energy at the Pacific Northwest National Laboratory.
In addition, Kori Klingelsmith, a junior-level undergraduate who transitioned into a TBI W.M. Keck-affiliated lab following the end of HONR 291, was recently listed as a co-author on the Keck-affiliated study accepted for publication by Nature Microbiology.
Extreme Microbiology in Yellowstone is offered again in fall 2019 and the team looks forward to working with another cohort of high-achieving undergraduate student researchers.
FALL 2018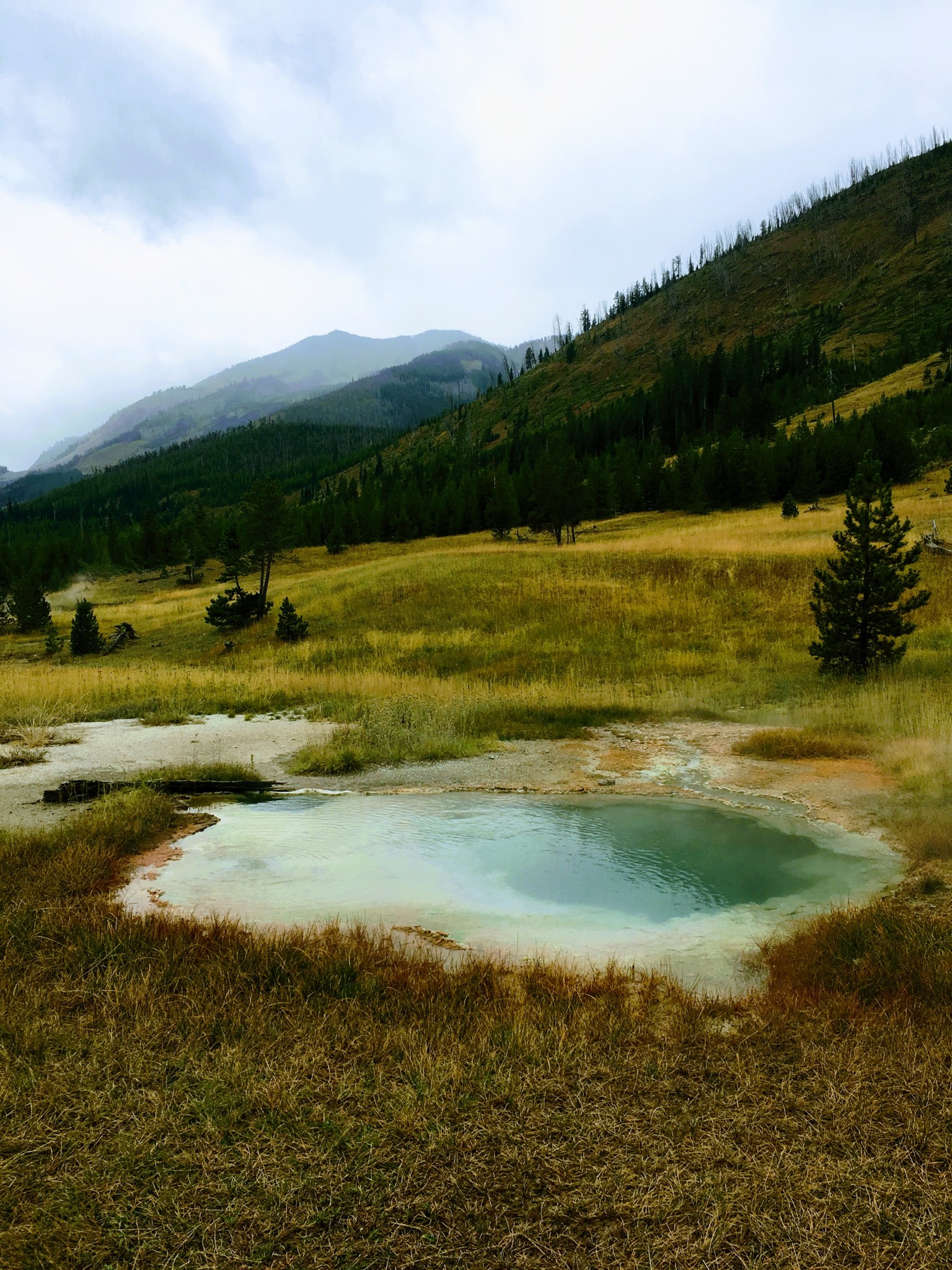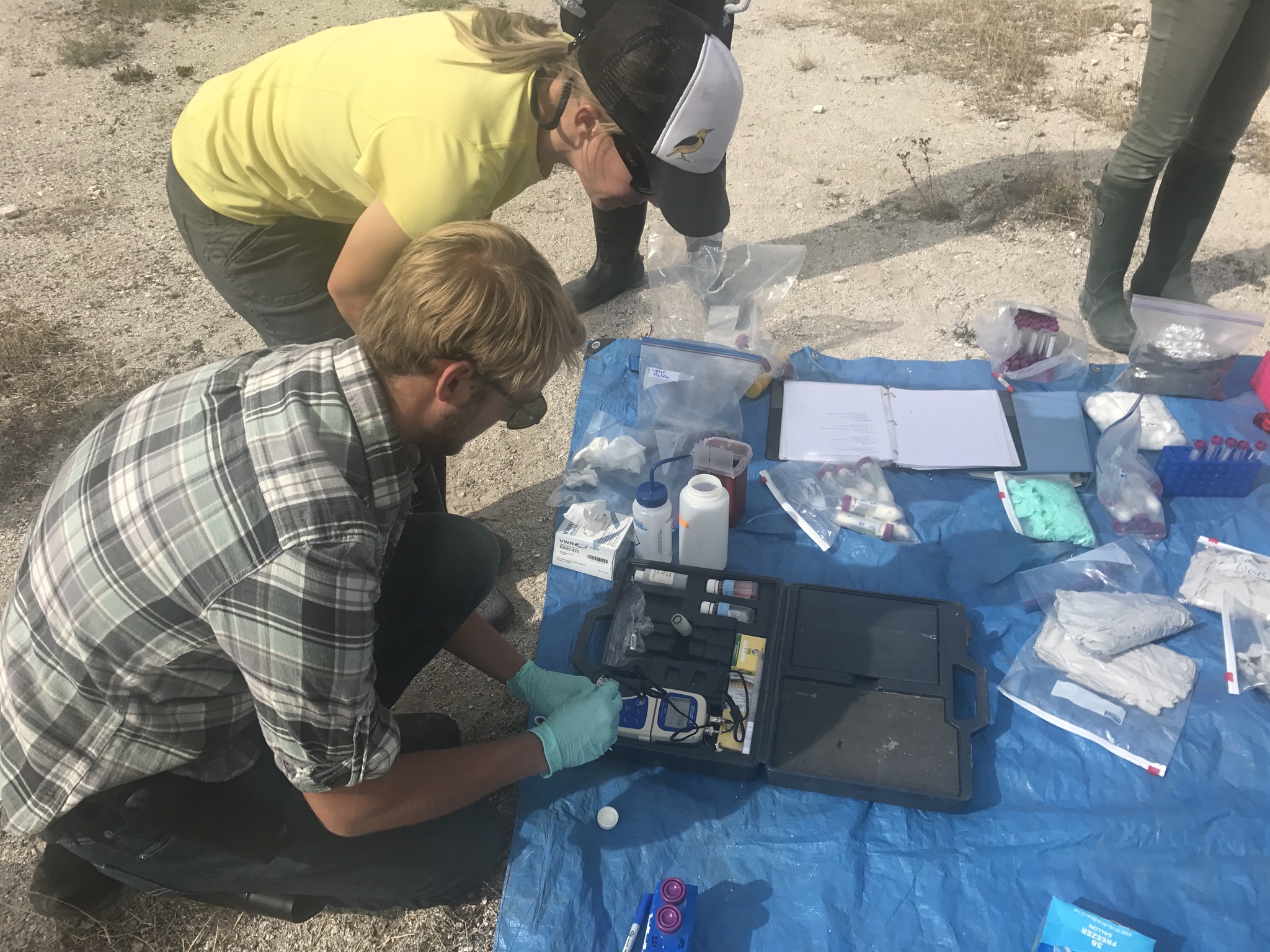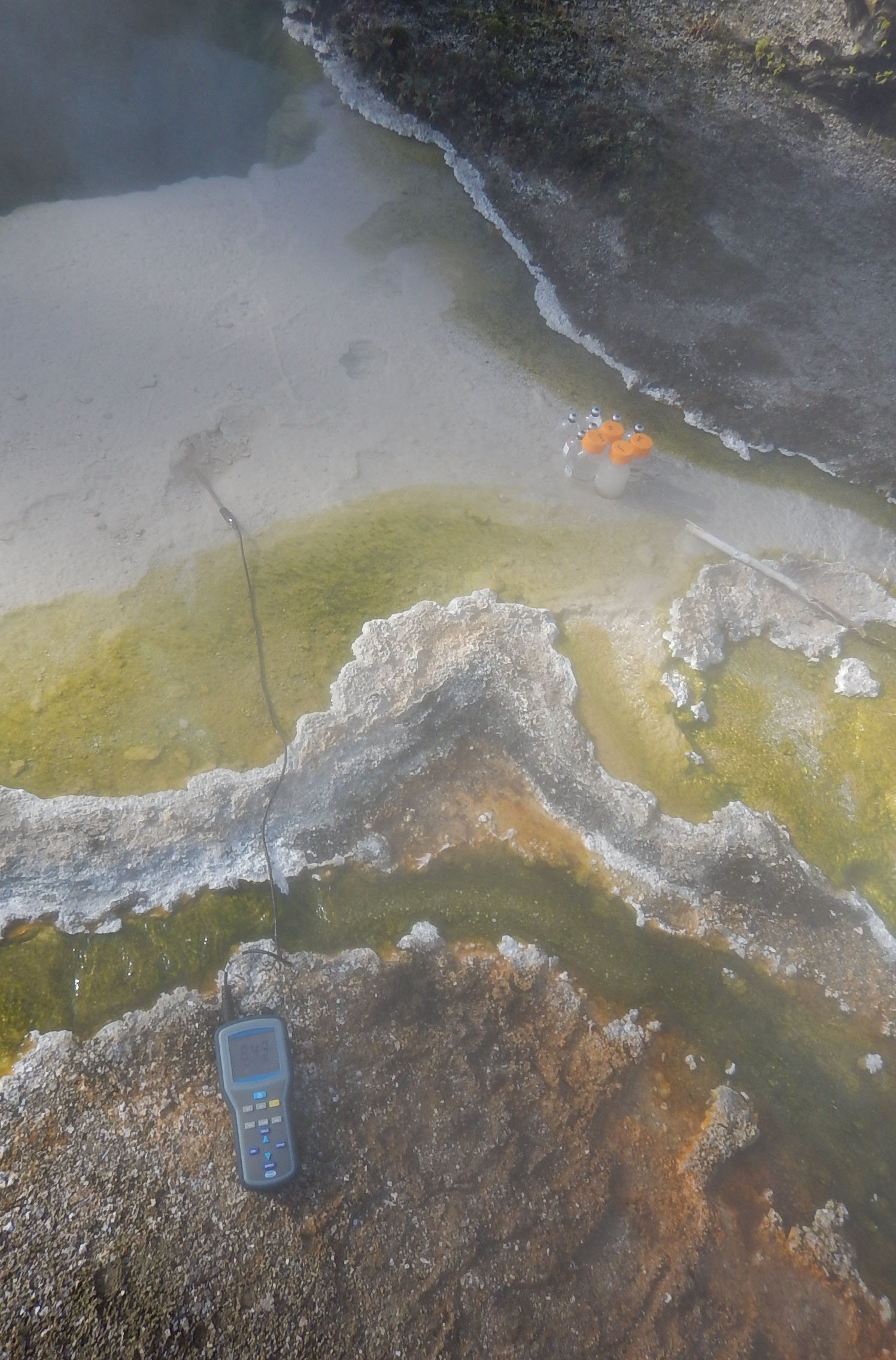 In the 2017–18 academic year, twelve undergraduate students enrolled in the Honors (HONR) 291 course "Extreme Microbiology of Yellowstone" joined the MSU Keck team on a week-long sampling trip in Yellowstone National Park. HONR 291 students are working in research teams to try and cultivate novel thermoalkaliphilic bacteria and archaea from some of Yellowstone's high pH hot springs. Students collected sediment slurry and microbial mat material from promising hot spring locations, and brought them back to MSU for cultivation attempts. During HONR 291 lab sessions, student research teams prepared, inoculated, incubated, and transferred microbial enrichment cultures using methodological approaches developed by the research teams. Students are currently analyzing their YNP microbial enrichments to determine what organisms were successfully cultivation, and whether any are promising novel thermoalkaliphiles the Keck research team may wish to characterize in more detail.
SUMMER 2017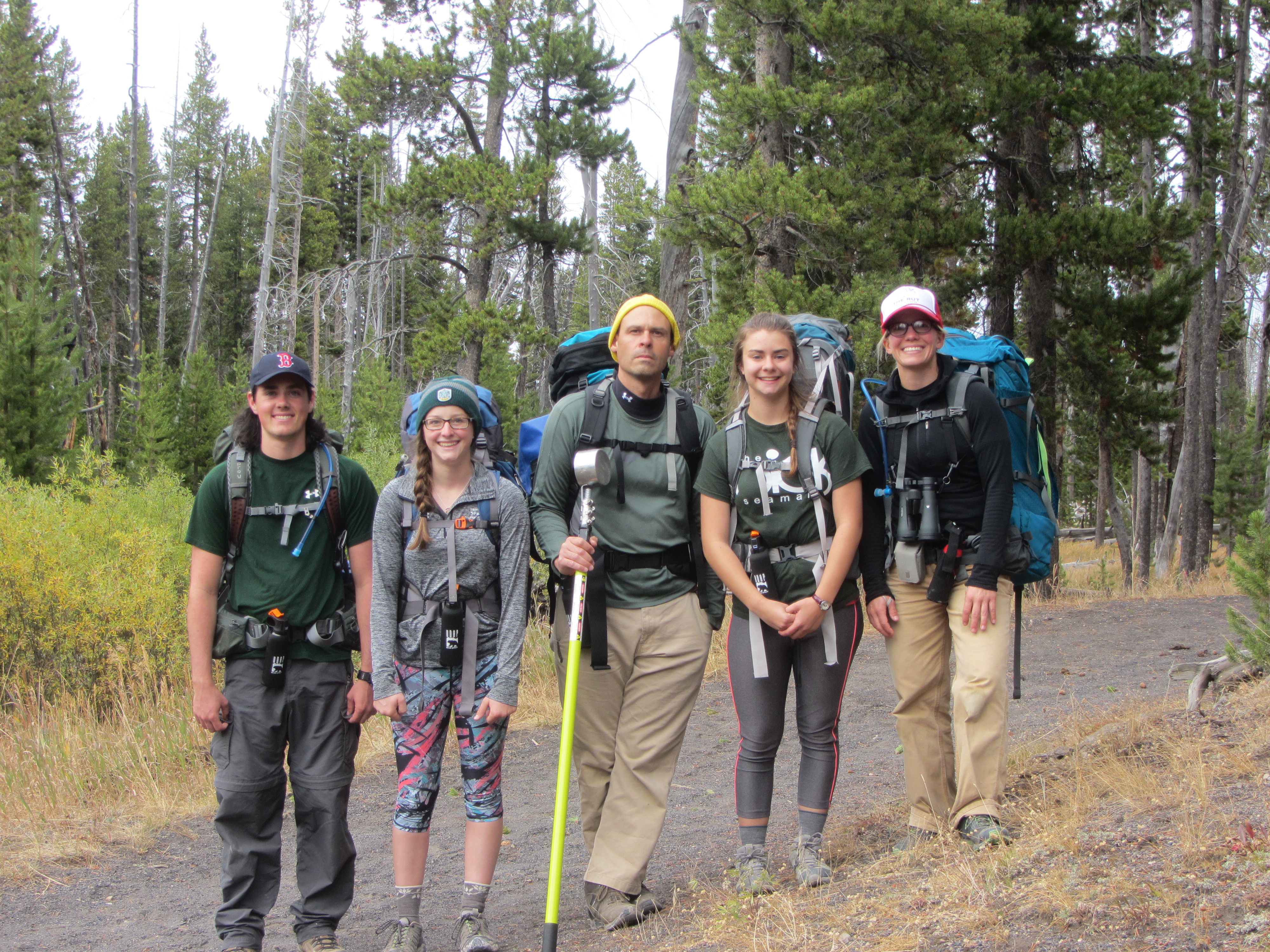 In the summer of 2017, enrichment work targeting the growth of uncultivated thermoalkaliphilic Bacteria and Archaea yielded several promising cultures. Enriched populations were visualized using Fluorescent in situ Hybridization (FISH), detecting the possible presence of several novel bacterial populations. These enrichments are currently being sequenced to identify specific species and their relative abundance. Progress has also been made on extracting proteins and metabolites from thermoalkaline YNP hot springs. This work will provide important insights into proteins that allow thermoalkaliphilic organisms to grow and survive under such extreme conditions. Finally, metagenomic datasets generated from several high pH hot springs are currently being assembled, and will help in identifying potential metabolic pathways employed by thermoalkaline microbes, thus allowing for genomics-enabled cultivation efforts.